We are saving more than just paper
We care about the planet and have always been proud that we advise corporate clients all over China to adopt sustainable solutions in their workplaces. Therefore, it only makes sense for us to incorporate these environmentally-friendly initiatives into our own internal office habits.
The Paperback Program aims to provide corporations and businesses in China with the means to recycle paper responsibly and raise awareness in order to reduce paper waste.
According to Green Initiatives Director Ashley Fernandes, the waste paper gets collected, processed with other virgin pulp and then is remade into new industrial grade paper, which is supplied to other paper products manufacturers. What makes this program unique is that the Green Initiatives team has verified the recycling process at Asia Pulp and Paper's facility in Ningbo, China. Ashley explains, "At Green Initiatives, before we launch any project, we conduct due diligence that the partners we work with are reliable and deliver what they commit to."
In December 2018, our management team took some time out of their busy schedules to gain a deeper understanding of the Green Initiatives Paperback Program. Founder Nitin Dani gave our team a great presentation about the purpose of the Paperback Program. At Life Solutions, we are excited about the positive impacts that this project can bring about. The facts below are more than convincing!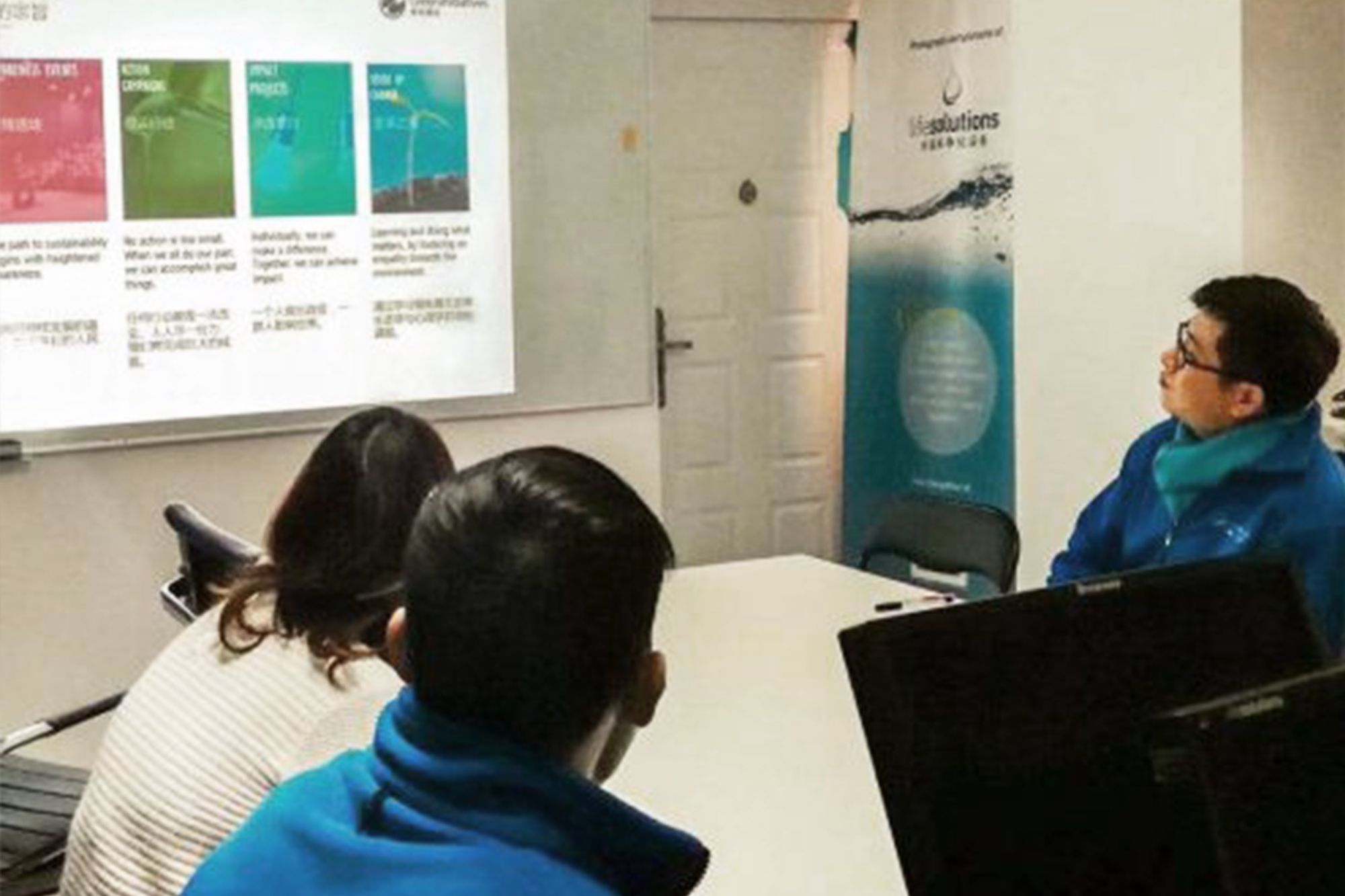 What we learned.
For each ton of recycled paper, we can save up to:
– 26,500 liters of water
– 4,000 kilowatts of energy
– 1,440 liters of oil
– 17 trees
– 2 cubic meters of landfill
The team was surprised at the amount of natural resources we can save by recycling in our office. We understand that as our company grows in numbers, our consumption of paper is likely to increase. This opportunity to make a positive difference for the planet is the main reason why we decided to partner with Green Initiatives on their Paperback Program.
As we are continually looking for ways to save natural resources and improve our company as a whole, we are proud to participate in this important Corporate Responsibility program. Our printing corner is now equipped with classified recycling bins as well as informative posters to increase internal environmental awareness around the office.
If you would like your company to help the environment by reducing waste, you can find out more about this program here: http://greeninitiatives.cn/view-project/paperback